Dani | 7 years ago | 8 comments | 6 likes | 3,723 views
LostBoyz, michiel, vincent and 3 others like this!
my show
Very nice!
Dick, 7 years ago
Thank you Dick.

Dani, 7 years ago
All the shows you uploaded are great. Nice job with BT

vincent, 7 years ago
Thank you Vincent.

Dani, 7 years ago
Hi Dani,

Really great intro's
How long does it take on average to make a show like the "news studio" one.

I've seen more good intro's on your youtube channel do you have tips on how to speed up the process, do you make most of the 3d models (font, eps, .x models and reflectionmaps, or do you have a good scource you can share.

Keep up the good work, Long Live Bluff

komies, 7 years ago
Hi Komies,
Nice to meet you, only key is observation,(Michiel shows,BIXPACK VIDEOS ,LOSTBOYZ, CM, INTROCHAMP INTROS) and ,experiments, and all great gallery artists shows are tutorials for me. fonts,eps and ( fx. like Flare.fx, ChromaKey.fx, NotLightened.fx, above all ReflectiveFloor_ReflectionMap.fx is my all time favorite), still i am learning i am not a big man to give tips. News studio intro is full of eps ilke square circle,rings, you can create very good shows. if you work hard the process will be speed. news intro will take short time only. your show "Ferrari 458 Italia" is awesome. Komies you can do very gret intros, waiting to see great intros from you. Sorry for my English, my mother tongue is not English. send me you your email. my email "sriblessydaniel@gmail.com LONG LIVE BLUFFTITLER. GOD BLESS outerspace-software team

Dani, 7 years ago
Thank you Dani, the Ferrari model was not mine I just gave the 51 submodels color and reflection maps, no reflective floor because you could see the inside of the Ferrari, so I had to clone the whole model and flip it.

I walk also with the shift ctrl button through the shows and bixpacks to analyze them, but particularly particles :) is alot of trail and error for me.

I've got 3 or 4 hours a day to spend on blufftitler if en when i want to make a show it takes on averages a week to make a good show from concept to trial and error testing how to do this, to make the basic forms and layout, to colormap and reflection map, to tweak lighting and camera movement and this never stops for me because it can always be beter!!!
And by making more and more show the workflow goes smoother because of less testing, reuse of materials and idea's. And I still use alot of models and materials from copyright free sites.

So when I see your impressive high quality shows and the sheer volume of your work I can but wonder how many hours you spend on those.

komies, 7 years ago
Comment to this article
More by Dani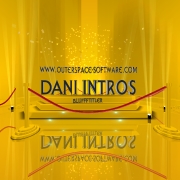 About Dani
Daniel lives in Hyderabad city in India, He loves to work with Blufftitler , For to him Every day begins with Blufftitler , He called himself a mad lover of Blufftitler.
Thank you for watching my shows and your great support.
Lots of Love from
Dani,
Hyderabad,
India.

Contact Dani by using the comment form on this page or at sriblessydaniel@gmail.com, facebook.com/dani.daniel.94064 or youtube.com/user/sriblessydaniel