Dani | 7 years ago | 4 comments | 3 likes | 2,365 views
Tintin, sinus300 and michiel like this!
one of my shows
Nice wings!

michiel, 7 years ago
Thank you Michiel.

Dani, 7 years ago
Hey Dani,
May I ask how you created your 3D Wings? And Circle in which you placed the BEP letters? I'm trying to create .eps files with my Adobe Illustrator program but with no luck when it comes to transferring these files to BT. Any help would be great! Love your work and please keep it coming! Thanks in advance Dani!
Applejax, 7 years ago
Comment to this article
More by Dani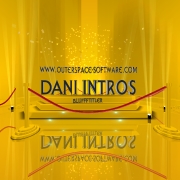 About Dani
Daniel lives in Hyderabad city in India, He loves to work with Blufftitler , For to him Every day begins with Blufftitler , He called himself a mad lover of Blufftitler.
Thank you for watching my shows and your great support.
Lots of Love from
Dani,
Hyderabad,
India.

Contact Dani by using the comment form on this page or at sriblessydaniel@gmail.com, facebook.com/dani.daniel.94064 or youtube.com/user/sriblessydaniel