Dani | 3 years ago | 6 comments | 9 likes | 1,206 views
liuyongcai, michiel, irina1208 and 6 others like this!
Feeling Happy with BT.........
I liked this, even with my name in it. ʘ‿ʘ

Did you move the mirror layer? video 0:16 to 0:18
Or was this a layer sorting problem? (use Depth Bias)

Greetings and congratulations from the Netherlands to your newly wedded Brother and his Wife and the rest of the Family.

komies, 3 years ago
Nice suite of animations, Dani, you're a great colors director!

vincent, 3 years ago
Thank you Komies and vincent.
Komies:- yes i moved the mirror eps layer.
i will convey your wishes to my brother, thank you.

Dani, 3 years ago
Very nice Dani, luv the "Pak"
Stephen
maxste, 3 years ago
bravo Dani, ahora ya los haces en packs

persiana, 3 years ago
Comment to this article
More by Dani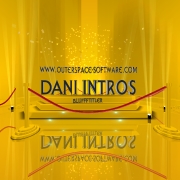 About Dani
Daniel lives in Hyderabad city in India, He loves to work with Blufftitler , For to him Every day begins with Blufftitler , He called himself a mad lover of Blufftitler.
Thank you for watching my shows and your great support.
Lots of Love from
Dani,
Hyderabad,
India.

Contact Dani by using the comment form on this page or at sriblessydaniel@gmail.com, facebook.com/dani.daniel.94064 or youtube.com/user/sriblessydaniel