komies | 4 years ago | 9 comments | 13 likes | 1,945 views
crispin, liuyongcai, vincent and 10 others like this!
Some simple homemade Church Bells

I normally don't do this, I like to give tips and point you in the right direction so you can figure it out and make it by yourself.

I put the images Bell and Clapper from which I made the EPS Church Bell within the textures folder.
Download media files (115.8 KB)
Sorry, I see your patience finally snapped, no matter how many times you quietly told me, lol. I'm sorry I drove you to this course of action, rofl.

But honestly, I really appreciate the help you have given me and I have learned a lot with your guidance, I just hope my ineptitude has also helped others following this saga of the "bells" to understand BT a little more just like myself.

Your a star...

Thanks again.
tayla, 4 years ago
Good Job Komies,

Dani, 4 years ago
Thank you to share with others.
snafu, 4 years ago
The power of revolved shapes!

vincent, 4 years ago
Thanks for sharing, and so each person learns the secrets of BT.
Jesus, 4 years ago
Thanks for sharing these bells will help me

PAT67, 4 years ago
Your welcome, PAT67

It's what Vincent said:
www.outerspace-software.com...

komies, 4 years ago
Comment to this article
More by komies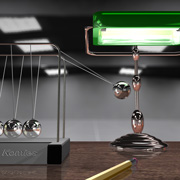 About komies
Contact komies by using the comment form on this page or at testground@live.nl