komies | 9 months ago | 6 comments | 1 like | 497 views
vincent likes this!
I have been asking myself how the pseudo random FX Interior Pattern works because with any slider I set there seems to be always a same room next too each other either left/right or top/bottom and ask Michiel in this community about it.

"Komies, I have no idea. The FX INTERIOR PATTERN props are parameters for a pseudo random function. I can only advise you to play around with its sliders until you see something you like."

But to get a better understanding I made a simple 4x4 colored grid and numbered them 1 to 16 and play with the sliders to get a clearer picture.

THE GAME for all who are willing to play is to find a combination that will not have the same number next or top/bottom of it.

Use the image in this post and add as picture layer and set FX Rooms in Texture to 4/4 and set room depth to 0.

GOOD LUCK HAVE FUN AND REPORT FINDINGS.
www.outerspace-software.com...
I have gotten a better understanding of the FX Interior Pattern 1 and was surprised by FX Interior Pattern 2 because it just added more of number 1 into the mix till set to 100 it is all number 1 no matter what the first slider had.

The FX repeat the 1st Interior has the same end result but gets there differently. And I like this property it gives me opportunities.

In the picture in this post are some examples
The first row only the 1st slider
The second row two sliders set to the same value
The third row with three sliders set to the same higher amount.

From my experiments there are only a few combinations without double rooms, and the higher the numbers in the sliders the higher the probability off a double room occurs.

So I would ask Michiel if he can have a look at this results and maybe tweak the FX randomness to include No Double Rooms feature.

komies, 9 months ago
Bix would say that it's a typical human mistake to think that a random function should not generate repeats. Those are different concepts: en.wikipedia.org...

Changing the random function would break old shows, but we could add a NO DOUBLES property somewhere. Thank you for your request!

Have you already experimented with using (360°) photos to create interiormaps? I would love to see the results!

michiel, 9 months ago
I think there is still a lot of testing to do, and this filter holds a lot of (good) surprises. Thanks Alex for these very informative experiences and thanks again to michiel.

vincent, 9 months ago
I have found another FREE way to make interiors, it takes some time to make it and there are still some pitfalls like in the texture of Christopher Harper but it is EASY to make.

I'm willing to SHARE these textures and info after I post a show with this new amazing (spiderman) effect.

Another thing that would help is a Facade.CFX that uses the same Window Size properties but now has it texture and FX slot free for a ColourmapNormalmap so we can change the exterior quickly.

As for the randomness, when you make a texture with 16 interiors that takes time and effort and then the illusion is broken because I cannot find a settings without double rooms and you know it is just a simple equation that can be done even in Excel then I feel the need to contact Michiel.

komies, 9 months ago
Komies I'm losing it. I was not very good in math in high-school, and what I knew about combinations an permutations I gladly forgot. Furthermore (spiderman) effect?? I love the idea of making easy interiors.

Love the work you do. I expect some amazing stuff in the near future!
Filip, 9 months ago
Comment to this article
More by komies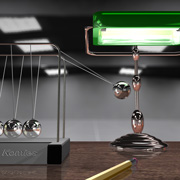 About komies
Contact komies by using the comment form on this page or at testground@live.nl