komies | 5 years ago | 4 comments | 6 likes | 1,652 views
liuyongcai, roberto666, MrGruntHunter and 3 others like this!
About a month ago, I posted an article that I was willing to teach anyone who was interested and today will be the first of hopefully many posts. I am willing to continue as long I feel it will be appreciated and get the feedback in form of posted show-offs. Why I am willing to do this is because Blufftitler is one of my favorite tools, and because of that I reaped the benefits from its fruits and in appreciation of this I am willing to donate some time and effort to this so others can benefit too.
For quite some while the forum is filling with request for more documentation, tutorials and downloadable shows, especially from newcomers who want to learn. I can understand that, and that is what the forum is all about, and I know there are a lot of contributors that are willing to help to put you on your way or give pointers and they're free to do so, but they cannot be forced to help. At a certain point the debate became personal and played on the man and the demands became inflamed much to my dislike, and there for I had drawn my conclusion and posted above mentioned post, to give some breathing room and to levitate the tension. This last month I watched the forum closely and it seemed to have worked, there was a lot of questions and answers, help and support to each other.

komies, 5 years ago
Blufftitler is an odd beast in the world of software, it's no Video Editor (VEGAS), Video compositor (After Effects) or 3d modeling program (MAYA), but it can be a little of it all. Blufftitler has not the scope off users or professionals as above mentioned nor is there a giant business backing it as Autodesk. Blufftitler is a niche, a niche that fills some important qualities, like it's fast, easy to understand, easy to use and it's affordable. With this there are also downfalls, but when you are working with blufftitler you will find them and learn to accept them, you send your feature request to Michiel and yes not only will they be heard, something they're fulfilled, like in Version 12. (There are a lot of features request built in) Keep up the good work at Outerspace-software team. With all of this in mind you understand why there are no Books (blufftitler for dummies), tutorial sites and video seminars. Blufftitler has to have it from its users and the posts on this forum.

komies, 5 years ago
When you are new to blufftitler it is like any other undertaking, where do you start because with anything new the information can be overwhelming, especially when you are trying to learn as much as possible by downloading everything you can download from the forum in form not only textures but the effects (F9) created especially for a certain type of effect this will cloud the issue. So where to start, was also the question I asked myself in order to teach and start the first lesson, off course the basics but the basics of what. The first I am going to learn you is to dissect a blufftitler show so you can help yourself to understand how (or some specific) blufftitlers shows are build. The conflict I read the most was that others had to learn it by themselves too and they have a point, there are hunderds of shows to download or to be bought as Bixpacks from with you can learn a lot, so this was for me the logical choice to start from.

komies, 5 years ago
Comment to this article
More by komies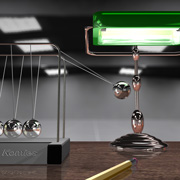 About komies
Contact komies by using the comment form on this page or at testground@live.nl