komies | 3 years ago | 9 comments | 10 likes | 1,191 views
IntroChamp, snafu, Dani and 7 others like this!
A simple fast and short show.

Use it, Change it, Learn from it
Download media files (7.4 KB)
Thanks komies, perfect chocolate metal paper!!! I feel yummy.

vincent, 3 years ago
Simple and fun! it is good.
liuyongcai, 3 years ago
Thank you for sharing your skills !!!!!!!
snafu, 3 years ago
So you're using the ReptileSkin_Normalmap.png that comes with the installer to create easter eggs.

B R I L L I A N T ! ! !

michiel, 3 years ago
Quedaron perfectos lo huevos de pascua

persiana, 3 years ago
Love the chocolate and the unpacking. How do I eat it?
Filip, 3 years ago
Awesome texturing!

IntroChamp, 3 years ago
thank you all,

It's the simple things that can make the difference.
I know that there are more Easter eggs to be found within Blufftitler!

komies, 3 years ago
Comment to this article
More by komies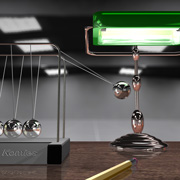 About komies
Contact komies by using the comment form on this page or at testground@live.nl