komies | 2 years ago | 8 comments | 13 likes | 1,170 views
liuyongcai, DaveH, michiel and 10 others like this!
I have been talking to Franco about cubes and how to make them spin walk: www.outerspace-software.com...

But it also reminded me of the cube picture explosion trick that I haven't used or seen for quite a while so here it is.

- Open a picture as traced picture layer
- Select Style Pixels and adjust the property pixel size to divide the image.
- With the Explosion property 1st slider you set the distance and the 2nd slider you spin the cubes.
- With Rotation you can make it more dynamic and with position you can let it fall into place.

That's it, a fast way to make your pictures appear and disappear with 3d cubes.

Use it, Change it, Learn from it.

EDIT:
In Layer 4 change Pixel size to 0.7, 0.7, 0.005 with the All keys marked
Delete the second key
And set on key 2,3,4,5,6 the Explosion property to 0.1, 0
Download media files (1.2 KB)
Nice. Thank you for sharing :)

chaver, 2 years ago
Thank you Komies,
well, I forced to break the cubes
I launched the cube mania ... LOL !!
Franco Aversa, 2 years ago
Very Well done Komies...Thank you...
remembering one of my show...
www.outerspace-software.com...

Dani, 2 years ago
No thank you Dani, for being an inspiration here in the community.

Remembering, that's the point, the regular users of BluffTitler may be sitting on effects they made and are lost, not intentionally but they moved on or lost interest or even plain forgotten about it.

komies, 2 years ago
Muy bueno, es genial tu interés en enseñar a los demás

persiana, 2 years ago
Very nice, komies! 👍
And thank you for sharing.

Ulli, 2 years ago
Great effect
DaveH, 2 years ago
Comment to this article
More by komies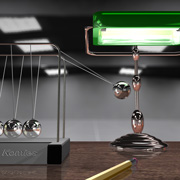 About komies
Contact komies by using the comment form on this page or at testground@live.nl