komies | 5 years ago | 4 comments | 7 likes | 2,096 views
michiel, Ulli, B.Projects and 4 others like this!
The same show without the three cubemaps and the tessellation on the bear on low (4).

Hopefully it will run faster now, without to much loss in quality.

Who has also difficulties with playing this show with the cubemaps in normal quality?

Because my pc is not the fastest, and where it counts in Blufftitler the GPU or Graphics Card isn't that fast either.

I am still trying to find out what makes a GPU the best for Blufftitler!
Download media files (412.1 KB)
This is an article I wrote on Graphics Cards, and I am curious to know yours this can be done anominously, just mail it to testground@live.nl

komies, 5 years ago
Yes, this one runs a lot faster. I can now explore your amazing work. Thank you very much!

michiel, 5 years ago
Komies El primero lo tuve que poner en calidad baja para poder verlo, pero a saltos, y este segundo me sale un ventana que dice: que no tengo disco en la unidad, y tengo que interrumpir el programa. Es la primera vez que me sale en blfftitler esto

persiana, 5 years ago
Comment to this article
More by komies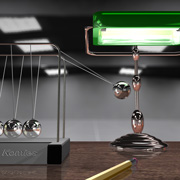 About komies
Contact komies by using the comment form on this page or at testground@live.nl