komies | 3 years ago | 9 comments | 10 likes | 1,321 views
chaver, Dani, gato@mo and 7 others like this!
Fast and Dirty show.
Is the Object a Circle, a Triangle or a Square?


interpret this as you like, but it needed to be said

Use it, change it, learn from it,
Download media files (22 KB)
Light is magic it creates the colors we see but creates shapes too with the game of shadows.... the world is full of illusions.

vincent, 3 years ago
The 3 2D shadows look very different but are all generated by the same 3D object.

Maybe we are all 3D shadows generated by the same 4D object...

michiel, 3 years ago
Michiel that is deep thinking.
Maybe Einsteinian or more in the line of Timothy Leary?
Filip, 3 years ago
Gödel, Escher, Bach, Hofstadter:

michiel, 3 years ago
I knew that we found substances in Holland !!!! LOL!

vincent, 3 years ago
impresionante trabajo komies

persiana, 3 years ago
Wonderful show.
For to me Komies you are special person in our community...Love your style and your kind heart, if you can change your profile pic so that we can see you it's my wish.

Dani, 3 years ago
@Dani

Be careful what you wish for........
But how could I deny you this simple request.

komies, 3 years ago
Comment to this article
More by komies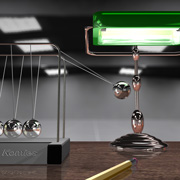 About komies
Contact komies by using the comment form on this page or at testground@live.nl