Dani | 5 years ago | 4 comments | 6 likes | 1,313 views
Ulli, LostBoyz, komies and 3 others like this!
Beta v.13
Experiment Relfection map with water layer.

Very nice demo - I love the 'fluidity' of the liquid.

I wonder if it is possible to add some disruption of the surface as the letters come through the liquid - it looks a little false if there is no wake or disruption as the surface breaks as each letter comes through..
stbo, 5 years ago
Very nice show, Dani.

Ulli, 5 years ago
Nice dutch color
Filip, 5 years ago
Thank you friends.
stbo : agree with you.

Dani, 5 years ago
Comment to this article
More by Dani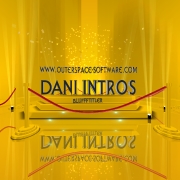 About Dani
Daniel lives in Hyderabad city in India, He loves to work with Blufftitler , For to him Every day begins with Blufftitler , He called himself a mad lover of Blufftitler.
Thank you for watching my shows and your great support.
Lots of Love from
Dani,
Hyderabad,
India.

Contact Dani by using the comment form on this page or at sriblessydaniel@gmail.com, facebook.com/dani.daniel.94064 or youtube.com/user/sriblessydaniel