Dani | 3 years ago | 7 comments | 8 likes | 1,094 views
Ulli, LostBoyz, SMSgtRod and 5 others like this!
Made with Eps, Vincent is my inspiration.
Wonderful, Dani

Who needs a difficult 3D modeler, when we have EPS. Great Job.

komies, 3 years ago
Yes if we use the EPS in a right way we will get good results...need to learn from our dear EPS master Vincent, the inspiring person.
Big thank you dear Komies, for your help and encouragement ....

Dani, 3 years ago
muy bien Dani

persiana, 3 years ago
I believe student surpasses the """(((master)))""", great job Dani, your camera id super!
Maybe just a remark : you could use a sphered eps for the lens, just an advice from the ex """(((master)))""".

vincent, 3 years ago
Great EPS model looks like a real one.
Filip, 3 years ago
The Drone looks great! Well done, Dani!

Ulli, 3 years ago
Comment to this article
More by Dani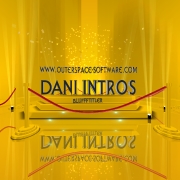 About Dani
Daniel lives in Hyderabad city in India, He loves to work with Blufftitler , For to him Every day begins with Blufftitler , He called himself a mad lover of Blufftitler.
Thank you for watching my shows and your great support.
Lots of Love from
Dani,
Hyderabad,
India.

Contact Dani by using the comment form on this page or at sriblessydaniel@gmail.com, facebook.com/dani.daniel.94064 or youtube.com/user/sriblessydaniel