Dani | 8 years ago | 4 comments | 5 likes | 2,577 views
sinus300, michiel, liuyongcai and 2 others like this!
One more new NEWS SHOW .

Thank you Julio solano, waiting to see your shows.

Dani, 8 years ago
ok my friend, very soon, i will add more shows , imnot professional but i try, can you help me with tutorials
julio solano, 8 years ago
Nice julio solano, Bixpacks are ultimate tutorials, just observe the each show how to it done, take one show and check out important layers, and what effects applied to them , very important camera movement, lighting, choosing attractive font, colorful and reflection textures, ( camera cuts are very important, click the below the link to observe Michiel's show for this, try try try.......... you can design more beautiful shows than us, i like your passion......... your passion will bring great shows to this gallery, julio. i am not a professional to give this long message, i am also a student of B.T still learning, have a blessed day.
www.outerspace-software.com...

Dani, 8 years ago
Comment to this article
More by Dani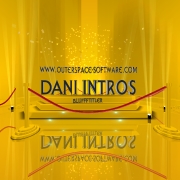 About Dani
Daniel lives in Hyderabad city in India, He loves to work with Blufftitler , For to him Every day begins with Blufftitler , He called himself a mad lover of Blufftitler.
Thank you for watching my shows and your great support.
Lots of Love from
Dani,
Hyderabad,
India.

Contact Dani by using the comment form on this page or at sriblessydaniel@gmail.com, facebook.com/dani.daniel.94064 or youtube.com/user/sriblessydaniel