Dani | 6 years ago | 6 comments | 7 likes | 2,275 views
michiel, Eddy, komies and 4 others like this!
Cake made from eps and fonts.(: One of my friend asked this show.
Very nice show Dani congratulate you, and which font style did you use?
Jesus, 6 years ago
For cake base circle eps and for decoration, Arial font letter ))))))) played around character rotation properties. Thank you.

Dani, 6 years ago
Dani, thanks so much for your beautiful show - it's so nice! :-)
I have birthday - not today :-) but in August, so thank you! :-)
Thanks for my favorite song of artist D.J.BoBo! :-))
irina1208, 6 years ago
great show as always bro
patrickv, 6 years ago
Thank you irina1208 and Patrickv bro.

Dani, 6 years ago
Comment to this article
More by Dani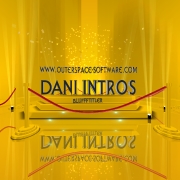 About Dani
Daniel lives in Hyderabad city in India, He loves to work with Blufftitler , For to him Every day begins with Blufftitler , He called himself a mad lover of Blufftitler.
Thank you for watching my shows and your great support.
Lots of Love from
Dani,
Hyderabad,
India.

Contact Dani by using the comment form on this page or at sriblessydaniel@gmail.com, facebook.com/dani.daniel.94064 or youtube.com/user/sriblessydaniel