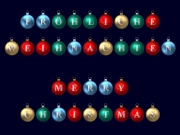 Ulli | 13 years ago | 3 comments | 3 likes | 5,558 views
XarquS, Tester and michiel like this!
A new Bitmap Font.

I wish all Bluffy Fans

Merry Christmas for you and your family!
Download media files (275.2 KB)

Thank you Ulli ! And best wishes for you too
oldman1, 13 years ago
Gracias Ulli. Muy buenas fuentes y feliz Navidad.
XarquS, 13 years ago
Thank you so much for your wishes!

Ulli, 13 years ago
Comment to this article
More by Ulli