Carlos Marques | 5 years ago | 6 comments | 7 likes | 1,764 views
michiel, persiana, pkay and 4 others like this!
=)
Hé did I step into bizarro world?

Carlos makes something and Dani duplicates it in his own style!
Not the other way around!

LoL

komies, 5 years ago
no, I did first
I posted in my first page, it was that he saw
page:

Carlos Marques, 5 years ago
Look at the date it was published in youtube

Carlos Marques, 5 years ago
Oke, the world is back to it's order of things.

Don't Panic, get your towel prepare for hyperspace. And remember: "The Answer to the Ultimate Question of Life, the Universe, and Everything" is 42.

komies, 5 years ago
I first apologize to Carlos, yes 100% Carlos is right, i saw this first on his page and inspired me to this show, Carlos if i hurt you i am very sorry,
All your shows are great inspiring, you are a great and dynamic designer there is no doubt about it , Most my work is inspiration from you only,
Carlos is the best best.....
This show is awesome, Keep doing and teach us,

With lots of love from
Dani.
Mad Lover of Blufftitler.

Dani, 5 years ago
Comment to this article
More by Carlos Marques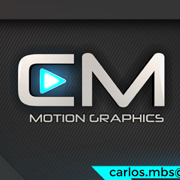 About Carlos Marques
▶e-mail: carlos.mbs@hotmail.com

Contact Carlos Marques by using the comment form on this page or at facebook.com/carlosmarques3d?ref=hl