Carlos Marques | 6 years ago | 4 comments | 6 likes | 1,825 views
michiel, irina1208, IntroChamp and 3 others like this!
Animation Title :)

Titles Moves V.2

Carlos Marques, 6 years ago
Nice!

I wonder why it's no longer possible to like a YouTube video when it's embedded. This used to be possible. Now we have to go to YouTube itself in order to like it...

michiel, 6 years ago
Always ...Carlos your shows are awesome.

Dani, 6 years ago
Style and manner is what distinguishes CM out of any of us.
CM - is a Pro! indeed, pro with a capital «P»
Ought to be somehow highlighted in gallary
like GOD OF BT (GOBT-for short) :))))
Like the shows alotttt/ Cant help using the priciples
bigfish, 6 years ago
Comment to this article
More by Carlos Marques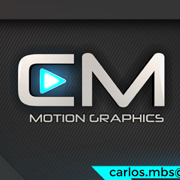 About Carlos Marques
▶e-mail: carlos.mbs@hotmail.com

Contact Carlos Marques by using the comment form on this page or at facebook.com/carlosmarques3d?ref=hl