Dani | 5 years ago | 7 comments | 12 likes | 1,509 views
LostBoyz, Vanlen, Thor5ten and 9 others like this!
This show is dedicated to our beloved friend Komies, for his continuous support and help.
I wish you all the very best for your future goals.

Thank you.
Dani.

Dani, you make me blush (。◕‿◕。)

I cannot click on the Like button, but I can say thank you Dani \ (•◡•) /

komies, 5 years ago
You deserve it Komies!

michiel, 5 years ago
I just realized what a joy it is we can use the app itself to say thank you!

I mean, that would have been a lot more difficult if Bluff happened to be an administrative tool :)

Well done Dani, this is what BluffTitler is all about!

michiel, 5 years ago
Komies, i click LIKE for you (and me) you are our teacher and our memory, you remember all that we forget. Dani bravo for this tribute.

vincent, 5 years ago
espectáculo formidable

persiana, 5 years ago
Yep, what they said... lol, I will say this only the once (well actually it will be quite a few times)... can't thank you enough for the help you have given me.
tayla, 5 years ago
Comment to this article
More by Dani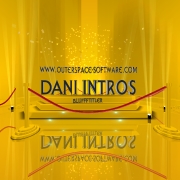 About Dani
Daniel lives in Hyderabad city in India, He loves to work with Blufftitler , For to him Every day begins with Blufftitler , He called himself a mad lover of Blufftitler.
Thank you for watching my shows and your great support.
Lots of Love from
Dani,
Hyderabad,
India.

Contact Dani by using the comment form on this page or at sriblessydaniel@gmail.com, facebook.com/dani.daniel.94064 or youtube.com/user/sriblessydaniel