Filip | 3 years ago | 6 comments | 8 likes | 1,058 views
Tintin, maggico, Ulli and 5 others like this!
Michiel thnx for sharing your Friendly message 2.

I used your show to make this one.

The floor is also made with Filter Forge.

Good use of Michiel´s toilett paper, Filip. ?

Ulli, 3 years ago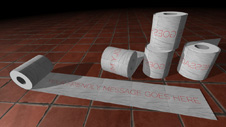 Great variation!

Thank you!

michiel, 3 years ago
le sol est très réaliste

PAT67, 3 years ago
Muy bueno Filip

persiana, 3 years ago
Comment to this article
More by Filip