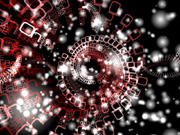 matty | 15 years ago | 6 comments | 5 likes | 5,311 views
Radlerklaus, rsp, abcodie and 2 others like this!
Thanks to Michiel for the ideas. Simply put a logo or whatever piccy onto one side of a black image then simply play around with rotation and trial length. Set the launch area to 0,0,0. although it still looks cool with a big area too!
Download media files (14.1 KB)
I really like the moments when suddenly, out of a big abstract chaos the text becomes readable for a few seconds only to disappear back into the merciless spirals.

michiel, 15 years ago
I've been puzzled for a while trying to figger out why this animation takes so much time to load (3 seconds on my computer) until I found out that the texture is pretty big with a resolution of 2048 x 1536.

michiel, 15 years ago
yes it is a big texture - luckily the load time and frame rate don't really affect me as i record the animations as video files to play on screen
matty, 15 years ago
I was deceived by the filesize of only 74KB. The texture compresses extremely well because it's a small white logo on a big black background, but remember that textures are stored uncompressed in the memory of your video card, so it's not the filesize, but the resolution that counts.

But as long as it fits into the memory of your graphics card it really does not affect the frame rate and indeed this animation runs very smoothly!

michiel, 15 years ago
I am new to this and have a question. There is no option for trail length when using text, but only as a particle. Is there a particle you are attaching to the text? Thanks
mr.beebo, 14 years ago
Comment to this article
More by matty