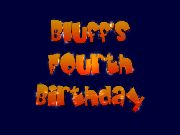 DeanO | 13 years ago | 5 comments | 3 likes | 4,531 views
Here is the show for "Birthday Titles" that can be found under the "External Links" section.

With the original version I generated the titles and background separately in Blufftitler then imported them into Avid Liquid, added the sound effects plus I blurred and added transparency to the particle background to tone it down a little as it was the days before BluffTitler had the transparency option!!!!

The font is Baby Kruffy - the link is below.
Download media files (7.9 KB)
www.dafont.com...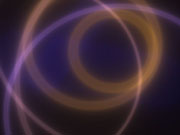 The link to the particle background is here...
www.outerspace-software.com...
DeanO, 13 years ago
I love the bouncer effect of the camera layer. Also the stretch effect of the "fourth" text is really cool!

michiel, 13 years ago
You can make the particles more visible by using the Z-BIAS property. With this property you can move the particles a bit closer to the camera to prevent them being z-clipped by the text.

You can do this by performing the following steps:
1) select layer 5
2) jump to the second key by pressing the NEXT KEY button
3) select the Z-BIAS property
4) mark the ALL LAYERS checkbox
5) set the Z-BIAS property to about -40

Looks better?

I marked the ALL LAYERS checkbox before changing the Z-BIAS property so that I can change this property for all particle layers at the same time.

michiel, 13 years ago
Comment to this article
More by DeanO