Dani | 3 years ago | 4 comments | 7 likes | 1,029 views
Vanlen, LostBoyz, Ulli and 4 others like this!
A test show...

Done Text sketch with Bixelangelo...but not template friendly...
Michiel is there is way to draw text in bt...we have " writer text" .cfx...but not giving this output...it needs to be updated...would be a great ...

Dani, 3 years ago
Nice show!

The sketch layer also accepts picture files. This way you can import your logo into BluffTitler without using Bixelangelo. It works best with a transparent PNG.

Click on the CHANGE EPS... button to use another logo. This way it's template friendly.
www.outerspace-software.com...

michiel, 3 years ago
Yes Michiel you are right..

Dani, 3 years ago
Hello Chaver greet you have looked at your intro with fire Respect I like to ask you if you would send me that in the bluff file would be in Germany and would make something for Happy Birthday very dear thanks in advance love and Respect elvis from Germany ;-)
www.outerspace-software.com...
elvis66, 3 years ago
Comment to this article
More by Dani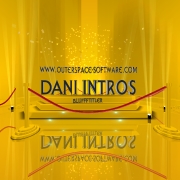 About Dani
Daniel lives in Hyderabad city in India, He loves to work with Blufftitler , For to him Every day begins with Blufftitler , He called himself a mad lover of Blufftitler.
Thank you for watching my shows and your great support.
Lots of Love from
Dani,
Hyderabad,
India.

Contact Dani by using the comment form on this page or at sriblessydaniel@gmail.com, facebook.com/dani.daniel.94064 or youtube.com/user/sriblessydaniel