Carlos Marques | 7 years ago | 6 comments | 8 likes | 2,232 views
IntroChamp, Dani, jopin and 5 others like this!
I filmed my upset of the year doing the show.
Carlos, you are a a multi-talented man!

Nice video!

michiel, 7 years ago
Carlos, you're the man!!!

IntroChamp, 7 years ago
Yes Michiel, really multi talented , man of creativity .

Dani, 7 years ago
Thank you my friends; michiel / IntroChamp Joel / Dani ;)

A great 2014 to all of you ...

spent the holidays now have time to do what I love more, Video Graphics movements.

Carlos Marques, 7 years ago
Carlos cool! Handsome!
liuyongcai, 7 years ago
Comment to this article
More by Carlos Marques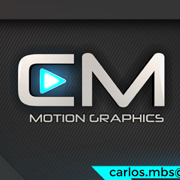 About Carlos Marques
▶e-mail: carlos.mbs@hotmail.com

Contact Carlos Marques by using the comment form on this page or at facebook.com/carlosmarques3d?ref=hl