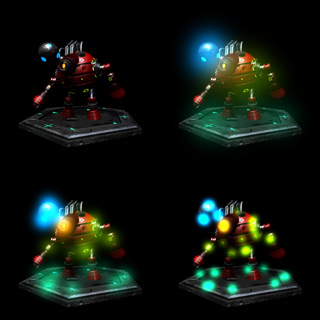 Glow | Public beta now available!
michiel | PROMOTED ARTICLE | 20 comments
Here's something we wanted to add for a long time: glow! Model layer The GLB 3D model format supports... Read Article

Juggling Octopus
michiel | a month ago | 16 comments
The possibility to attach a container layer to a model joint is very powerful: outerspace-software.com...... Read Article

Fire Elemental
michiel | a month ago | 11 comments
Here's an example how you can spice up an animated 3D model with BluffTitler effects. Model The... Read Article

T-Pose effect
michiel | 4 months ago | 39 comments
Character animation is a bit out of scope for a video titler, but because many asked for this, here's... Read Article

Speedy Recovery Filip!
michiel | 4 months ago | 11 comments
Yesterday, hidden in the comments, we read the following news: outerspace-software.com... Filip, we... Read Article

Tennis Ball
michiel | 5 months ago | 15 comments
A 3D sketch in the shape of the tennis ball curve. The glossy effect is produced by the ProceduralTextures\ShinePlus... Read Article

Spherical Spiral
michiel | 5 months ago | 10 comments
A 3D sketch curving around a sphere, spiced up with the ProceduralTextures\ShinePlus effect. The moving... Read Article

4 Textbox styles
michiel | 7 months ago | 11 comments
Here are 4 ways to create a textbox, useful for lower thirds. Top left uses the STROKED ROUND style... Read Article

BluffTitler Wheel Script for Blender
michiel | 7 months ago | 10 comments
Here's a Python script for Blender that automates the process of creating wheel models for use in... Read Article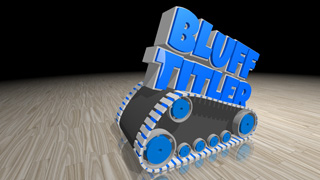 Caterpillar Treads
michiel | 7 months ago | 20 comments
Version 15.8.0.7, launched today, introduces a new style in the sketch layer: CATERPILLAR TREAD. When... Read Article

Auto Rolling Wheels
michiel | 7 months ago | 22 comments
BluffTitler version 15.8.0.6, launched today, introduces a super simple, super powerful way to make your... Read Article

Red Button
michiel | 8 months ago | 13 comments
There's a lot of discussion about the existence of a red button, how it looks like and what it does.... Read Article

Colouring the fragments
michiel | 9 months ago | 6 comments
With the FX RAINBOW property of the Special\FragmentExplosion effect you can give every fragment its... Read Article

Blinking text
michiel | a year ago | 4 comments
Here's how I would do a blinking text. Instead of animating the text itself, I would place a flare... Read Article

Pixel Art
michiel | a year ago | 11 comments
Version 15.6 adds a simple rule that makes it easier to create 3D pixel art: when the resolution of the... Read Article