komies | 4 years ago | 8 comments | 14 likes | 1,895 views
chaver, PeteK, vincent and 11 others like this!
A Fast and Dirty concept of a waving tree.

This model doesn't use the vegetation.cfx
Instead I used my favorite cfx to make things come to live.

The DancingFool.cfx weather it is butterflies, birds, fish, penguins and now trees.

When you apply this effect it starts wild so don't be alarmed.
Set Bending angle pos to like 0.1,0.2 with both on (0,0) it wouldn't move at all.
Set both Bending pos 1 and 2 to 0,0,0
Set with Bending centre a value so the root of the tree does not move.
Set with FX BPM the tempo of swaying

And now you play with small increments with the bending angle and pos 1 and 2, and you can even animate these settings.

Right click in the video window and select loop.

Good luck and have fun,

Very good results Alex!

vincent, 4 years ago
Extraordinario Komies

persiana, 4 years ago
Hello and thank you Komies (Alex) for shwring your knowledges. A+
Eddy, 4 years ago
Great work,komies!

Sma, 4 years ago
Alex ..your thinking is great...

Dani, 4 years ago
C'est très beau en plus on a le mode d'emploi.
Merci Komies

PAT67, 4 years ago
Very good result, Komies!
I will try the vegetation.cfx.

Ulli, 4 years ago
Thank you all, for the kind comments and likes.

BluffTitler is a amazing piece of software, and there are so many ways to achieve a similar effect, there is no one way of doing or the right way of doing it all depends on what you need at that moment. Experiment, Practice, Search in Community "including the User Guide" and ask questions.

Sincerely yours,

Komies, a BluffTitler friend.

komies, 4 years ago
Comment to this article
More by komies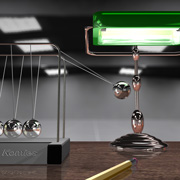 About komies
Contact komies by using the comment form on this page or at testground@live.nl