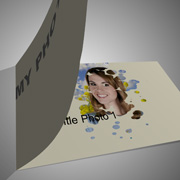 michiel | 9 months ago | 9 comments | 18 likes | 655 views
Thor5ten, komies, Ger and 15 others like this!
When you apply the Special\Masked effect to a particle layer, the particles become a window to a fullscreen background picture.

Place this picture in the 1st texture slot in the MEDIA > Change texture... dialog.

This is a reply to a question by Persiana:
www.outerspace-software.com...

I hope these shows can get you started.
Download media files (32 KB)
Great examples thanks for sharing.
Vanlen, 9 months ago
Thnx Michiel, it proves that BluffTitler has infinite possibilities.
Filip, 9 months ago
Muchas gracias Michiel, creo que ahora podré hacer lo que deseo

persiana, 9 months ago
Thanks, that's a truly amazing effect.

If you use 3D blobs instead of 2D circles and play a bit with specularity and transparency you can make it look a lot like a reflection in water.

Thor5ten, 9 months ago
Merci Michiel très bel effet

PAT67, 9 months ago
Thank you Michiel for sharing and also Persiana (J.M.) for that question.
Eddy, 9 months ago
Thank you all!

michiel, 9 months ago
Thank you Michiel and Persiana
Babe34, 8 months ago
Comment to this article
More by michiel

About michiel
Michiel den Outer is the founder and lead coder of Outerspace Software. He lives in Rotterdam, the Netherlands.

If he isn't busy improving BluffTitler, he is playing the piano or rides the Dutch dikes on his bikes.

Contact michiel by using the comment form on this page or at michiel@outerspace-software.com