michiel | 17 years ago | 7 comments | 7 likes | 11,618 views
eduvalmar, dibbkd, pacogl and 3 others like this!
Here's a BluffTitler version of the Toy Story movie intro. I've used a static picture for reference and made up the movements myself. A particle layer is used to animate the clouds in the background. The font used is the same old boring Arial Black, I'm sure you can find a better looking font.

Thanks to Patrick for the idea! If you would like to see BluffTitler versions of other famous movie intros, please let me know, I'd be happy to create them for you!
Download media files (22.7 KB)

Ik vind het prachtig Michiel, ben helemaal weg van blufftitler.
Ik ben ook een Apple gebruiker en maak dus een combinatie van Bft, Cinema 4d en final cut pro...geweeldig zou ik zeggen.
Heb je nog meer movie intros ?
Frank uit Den Haag
pacogl, 17 years ago
Kom maar op met je verzoekjes! Leaders en bumpers van TV programma's zijn ook altijd leuk om na te maken!!!

De enige echte klassieker blijft natuurlijk Star Wars, hier is een linkje naar de BluffTitler versie:

michiel, 17 years ago
...en wat denk je van Het Blok, een Net5 programma..?? het zou wel erggg leuk zijn, vooral als je ook de letters na eigen wens kan veranderen..
pacogl, 17 years ago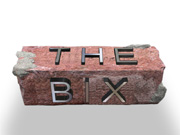 How about this:

michiel, 17 years ago
You've done it again michiel. Created a fantastic and fun logo to play with. My kids are going to love this with I make it for them.

This forum is a great idea, keep up the great work!

Here's a quick demo I made from your BT file!
dibbkd, 17 years ago
Geweldig! Wat een knap programma trouwens!
Jenny, 17 years ago
Based on this animation:

michiel, 15 years ago
Comment to this article
More by michiel

About michiel
Michiel den Outer is the founder and lead coder of Outerspace Software. He lives in Rotterdam, the Netherlands.

If he isn't busy improving BluffTitler, he is playing the piano or rides the Dutch dikes on his bikes.

763 articles 3,727,641 views

Contact michiel by using the comment form on this page or at info@outerspace-software.com