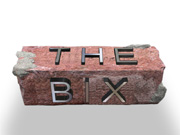 michiel | 17 years ago | 6 comments | 4 likes | 10,651 views
pacogl, DeanO and dandan like this!
Here's a BluffTitler version of the intro animation of the reality show Het Blok that is currently being broadcasted by Net5 in the Netherlands.

The block (the "blok") is built out of 2 picture and 2 text layers. The trick to animate all layers at the same time is to animate the camera layer instead.

Thanks to pacogl for the suggestion! Please let me know if you would like to see BluffTitler versions of other TV shows!
Download media files (332.5 KB)

Je bent snel Michiel......P R A C H T I G..!!!!!!!!!!!
Heeel erg bedankt.....
Nog 2 verzoekjes..:)
- Deal OR not Deal
- Show News van SBS 6
pacogl, 17 years ago
Deal or no deal kan je hier vinden:

michiel, 17 years ago
Dat is ook zo, maar het is niet mogeleijk om de text te veranderen..of wel..?..
pacogl, 17 years ago
In de Deal or no deal animatie zitten de teksten in de EPS bestanden. Is inderdaad iets meer werk om aan te passen.

michiel, 17 years ago
I successfuly joined 2 picture layers and 2 text layers but could not rotate camera as it is in the above show. Could any body help me?
Arshad, 13 years ago
The trick in this show is the ARM LENGTH property of the camera layer.

michiel, 13 years ago
Comment to this article
More by michiel

About michiel
Michiel den Outer is the founder and lead coder of Outerspace Software. He lives in Rotterdam, the Netherlands.

If he isn't busy improving BluffTitler, he is playing the piano or rides the Dutch dikes on his bikes.

765 articles 3,731,450 views

Contact michiel by using the comment form on this page or at info@outerspace-software.com