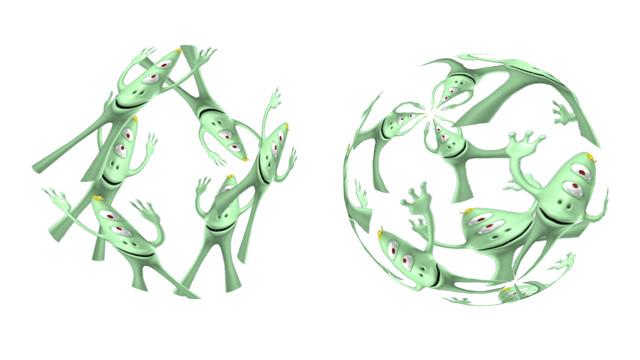 michiel | 13 years ago | 1 comment | 4,755 views
BluffTitler fully supports transparency: it can import and export transparent pictures (PNG, TGA, BMP) as well as transparent movies (AVI).

Transparent textures can be applied to all layers, including text, picture, video, particle and model layers. Press the CHANGE TEXTURE... button to change the texture of the active layer.

On this screenshot you can see a picture layer rendering a transparent picture in CUBE and SPHERE mode (you can set the shape with the 1st dropdown below the textbox). The sphere uses a TEXTURE REPEAT property of (3,3).

Special transparency effects include:

-when attaching a particle layer to a picture layer (press the ATTACH PARTICLES TO ACTIVE LAYER... button), the particles are only emitted from the opaque (non-transparent) parts of the picture.

-when you add a hyperlink to a picture (choose LAYER / ACTIVE LAYER PROPERTIES), only the opaque parts of the picture are clickable.

You can add transparency to a picture in Photoshop by performing the following steps:

1) load the picture by choosing FILE / OPEN
2) choose LAYER / NEW / LAYER FROM BACKGROUND
3) select the part of the picture you would like to make transparent by using the RECTANGULER MARQUEE, the LASSO, the MAGIG WAND or the MAGIC SELECTION BRUSH tool
4) press the DELETE key
5) choose FILE / SAVE AS and save your picture as a PNG file

michiel, 13 years ago

About michiel
Michiel den Outer is the founder and lead coder of Outerspace Software. He lives in Rotterdam, the Netherlands.

If he isn't busy improving BluffTitler, he is playing the piano or rides the Dutch dikes on his bikes.

Contact michiel by using the comment form on this page or at info@outerspace-software.com