komies | 8 years ago | 7 comments | 5 likes | 3,529 views
vincent, IntroChamp, liuyongcai and 2 others like this!
My first posting here :)

Made it in just 1 hour, as a test and work with the new effect.
It is not as good as Vincent (with moving buttons) but if you need a fast result it will do a great job.

I know with more time it will be more precise and with a eps back and shiny border it will look even better (michiel would it be possible to add a voxel to an container with eps)

And while i am requesting a light layer for the voxel layer would also very welcome, you may notice that i am very enthusiastic about this new effect.

So Thank you Michiel.
Download media files (459 KB)
Very nice and interesting usage of the new volume effect.
Michiel would it be possible to set the height ?
Thanks

vincent, 8 years ago
Or maybe height is defined by grayscale ?

vincent, 8 years ago
The height is set by the brightness of the pixels in the heightmap and the 3rd slider of the SIZE property.

michiel, 8 years ago
Lighting the voxel layer with decent quality isn't possible without pre-processing the voxel model into a 32 bits 3D DDS texture file. Big problem, those files are huge, the DDS file of this tooth is 64 MB:
www.outerspace-software.com...

michiel, 8 years ago
The 2nd texture can do anything the 1st texture can including playing videos and displaying your webcam. Copy the string from the 1st texture to the 2nd in the F9 dialog. A webcam string looks like this: videocapture0M3

michiel, 8 years ago
Komies, you have demonstrated the brilliance of this voxel layer option. Well done. It's so simple and powerful.

I would encourage Michiel to use his genius to explore every other possible option for the voxel layer as it relates to this type of application. I'm very excited about its potential possibilities!

IntroChamp, 8 years ago
Comment to this article
More by komies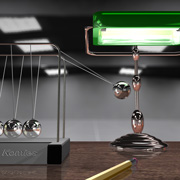 About komies
Contact komies by using the comment form on this page or at testground@live.nl