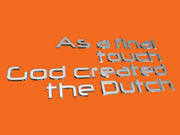 michiel | 17 years ago | 8 comments | 6 likes | 5,787 views
Ben, Thomasco and hgta like this!
Here's an animation celebrating the excellent performance of the Dutch athletes in the Olympic Winter Games. The result after three days: 1 gold and 2 silver medals. Not bad for such a small country!

The font used is neuropolitical, the link is below.
Download media files (1.4 KB)
1001fonts.com...

Slick letters, and the font DOES add something to the look. I know the orange background is intentional, but how can I change it?
Thomasco, 17 years ago
I finally found it. I ALWAYS use ambient color as background color, therefore I didn't think to look in the menu for this option. These letters are amazing.
Thomasco, 17 years ago
If it's the orange background you want to change go to 'file' and 'set background colour' - there you can make your changes
rsp, 17 years ago
Changing the background colour???

Isn't orange the most pretty colour in the world? It looks particularly beautiful in combination with gold, silver or bronze ;)

michiel, 17 years ago
I just like to check out letters against black so I know what I would get when exporting with alpha. The original composition does look great with this tone of orange and it does remind me of something I might expect to see in Amsterdam.
Thomasco, 17 years ago
You can make the alpha channel visible by left clicking in the 3D render window and pressing the A key.

michiel, 17 years ago
But then the letters look like a white mask.

BTW is there any way I can make a separate render of this white mask on black background?

I ask because Adorage Magic uses a system of FX with Mask to make transition. This could be an interesting way to use BluffTitler, e.g. by exporting an animation, since it is easy enough to animate .X models (don't have to use BT just as a titler).
Thomasco, 17 years ago
Okay, never mind. Now I see you can press "A" before rendering and then you have the mask track. Now I just need to try animating some model.
Thomasco, 17 years ago
Comment to this article
More by michiel

About michiel
Michiel den Outer is the founder and lead coder of Outerspace Software. He lives in Rotterdam, the Netherlands.

If he isn't busy improving BluffTitler, he is playing the piano or rides the Dutch dikes on his bikes.

Contact michiel by using the comment form on this page or at info@outerspace-software.com