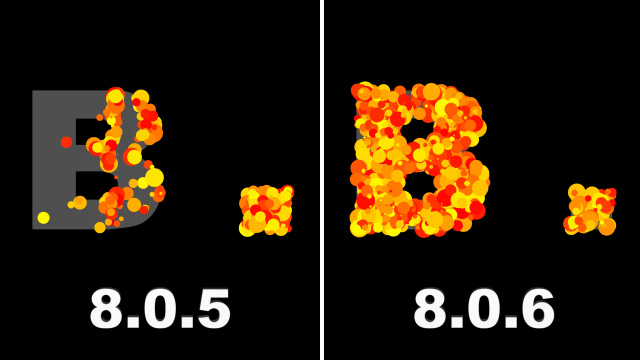 michiel | 11 years ago | 1 comment | 2 likes | 3,158 views
maitegras likes this!
Particles were never equally distributed over the surface of the text. This has been solved in version 8.0.6.

In the left screenshot you can see 2 problems:
-the . recieves as many particles as the much bigger B
-the particles that the B recieves are concentrated on the right side (because the right side has more triangles)

Both problems are fixed in version 8.0.6. As you can see in the right screenshot the particles are perfectly equally distributed. This way the text is readable even when you make the text itself invisible (by applying the invisible.fx effect) This makes way for lots of cool new particle effects!

Version 8.0.6 is now ready for download:
www.outerspace-software.com...

thanks Michiel
you are always improving
greeting
maitegras, 11 years ago
Comment to this article
More by michiel

About michiel
Michiel den Outer is the founder and lead coder of Outerspace Software. He lives in Rotterdam, the Netherlands.

If he isn't busy improving BluffTitler, he is playing the piano or rides the Dutch dikes on his bikes.

Contact michiel by using the comment form on this page or at info@outerspace-software.com