michiel | 2 years ago | 7 comments | 8 likes | 1,535 views
Ulli, ID Production, PAT67 and 5 others like this!
Here's a question by e-mail:

How do I remove the background picture of a BixPack 31 template so I can use only the lower third in my video?

Short answer: delete the background layer(s), export with alpha channel and import the result in your NLE.

The long answer is in the comments:

STEP 1: delete the background layer(s)

BluffTitler shows are built out of layers.

Layers can be selected:
-with the dropdown above the PLAY button
-or by double clicking on them

The active layer can be deleted:
-by choosing LAYER > Delete active layer...
-or by clicking on the DELETE ACTIVE LAYER button

michiel, 2 years ago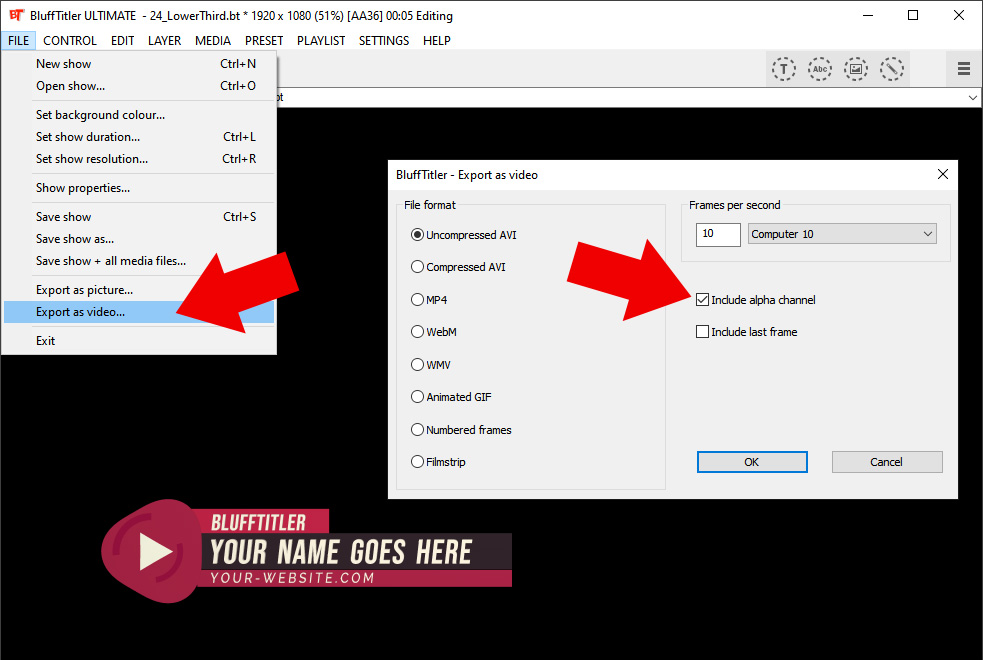 STEP 2: export with transparency info

-Choose FILE > Export as video...
-Mark the INCLUDE ALPA CHANNEL checkbox
-Click on the OK button

michiel, 2 years ago
STEP 3: import your video in your NLE

This screenshot uses VEGAS Pro 16.0

Make sure to:
-place your transparent video on top of the background video
-right click on the transparent video and set the Alpha channel to STRAIGHT (UNMATTED)

michiel, 2 years ago
The template used in this example is template 24 of BixPack 31:

michiel, 2 years ago
I'm making BluffTitler known to everyone, it can be used with any editing software, from the most famous to the less famous.
Franco Aversa, 2 years ago
Thank you Franco!

Good luck with the quarantine. I hope you are all right.

michiel, 2 years ago
Wow, thank you so much!

Take care everybody
Haui, 2 years ago
Comment to this article
More by michiel

About michiel
Michiel den Outer is the founder and lead coder of Outerspace Software. He lives in Rotterdam, the Netherlands.

If he isn't busy improving BluffTitler, he is playing the piano or rides the Dutch dikes on his bikes.

Contact michiel by using the comment form on this page or at info@outerspace-software.com