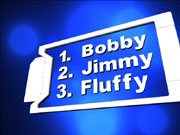 michiel | 16 years ago | 3 comments | 18 likes | 7,819 views
Tester, hgta, MarkWaldo and 6 others like this!
This file contains four 3D models of frames that can be used to present sport scores, competition results or game points.

They've been designed to hold about 4 names, but of course by adjusting the font size they can be used to display as many names as you like.
Download media files (211.2 KB)

Great effect with the 3D frames. I like the idea of dynamic graphics which focus the eye on the key information. Well done!
Tony, 16 years ago
I see there is a demo tsamp on it. Will it disappear if i use it in the programme proper?
I l;ike the ffect. I fact i am doing a short flic on a soccer match and I think i might be able to use it.
brido, 16 years ago
What makes you think there's a "demo tsamp" on this animation?

michiel, 16 years ago
Comment to this article
More by michiel

About michiel
Michiel den Outer is the founder and lead coder of Outerspace Software. He lives in Rotterdam, the Netherlands.

If he isn't busy improving BluffTitler, he is playing the piano or rides the Dutch dikes on his bikes.

Contact michiel by using the comment form on this page or at info@outerspace-software.com