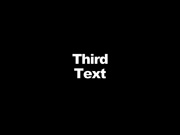 michiel | 9 years ago | 3 comments | 6 likes | 4,232 views
sinus300, IBMedia, Ulli and 3 others like this!
This tutorial shows a few ways to make 3 texts appear and disappear.

To find out which properties are being animated, open the properties dropdown. This is the dropdown above the 3 sliders.

If the property has a plus sign (+) behind its name it means that it is being animated.

For example TEXT POSITION + means that the TEXT POSITION property is being animated in the active layer.

And TEXT POSITION means that the TEXT POSITION property is not being animated in the active layer.

If you have any questions please comment to this article.
Download media files (3.9 KB)

Good example of several different techniques to achieve the same result.

I learned something new from this, as I hadn't realised about the use of the "No Animation" setting in the layer physics drop-down.

Thanks, Michiel.
IBMedia, 9 years ago
Great. The third one did exactly what I wanted and I was able to easily modify it. Problem is, no instructions on how it was done. I think I am getting it but here is my question.
Are you doing all 3 text before creating a key? I did something very close this morning but the timing was off. I did a key and created one text per key. It looks like you are doing all three and then creating one key. But it doesn't record your actions until you push the red "create key". Can you step out you process?

Thank you
2da4est, 9 years ago
I think you think every keyframe can have its own text.

This is not true.

You can't change the text during the animation by adding keys.

If you want a new text you have to add a new text layer (click the ADD TEXT LAYER button or choose LAYER > ADD LAYER > ADD TEXT LAYER)

>Are you doing all 3 text before creating a key?

The key has nothing to do with the text, so this order does not matter.

You can create the 3 text layers first and then create their keys.

But if you want, you can create all the keys of the first text layer before creating the next text layer.

The order does not matter because every layer has its own text and keys.

michiel, 9 years ago
Comment to this article
More by michiel

About michiel
Michiel den Outer is the founder and lead coder of Outerspace Software. He lives in Rotterdam, the Netherlands.

If he isn't busy improving BluffTitler, he is playing the piano or rides the Dutch dikes on his bikes.

739 articles 3,608,570 views

Contact michiel by using the comment form on this page or at info@outerspace-software.com