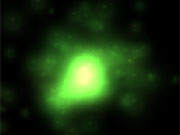 michiel | 16 years ago | 4 comments | 5 likes | 19,937 views
hgta, VGL and lampion like this!
This an hypnotizing particle effect that looks very good when played in a dark room.

I've placed the camera and particle layer at the same position and used the camera arm and rotation properties to slowly rotate around the particle system.
Download media files (8.5 KB)

corrupt file again Michiel, I guess it must be the same problem with all zip downloads
alanMAC, 16 years ago
Download problems should now be fixed

michiel, 16 years ago
Downloaded a few minutes ago without a problem..
plemmens, 16 years ago
Comment to this article
More by michiel

About michiel
Michiel den Outer is the founder and lead coder of Outerspace Software. He lives in Rotterdam, the Netherlands.

If he isn't busy improving BluffTitler, he is playing the piano or rides the Dutch dikes on his bikes.

Contact michiel by using the comment form on this page or at info@outerspace-software.com