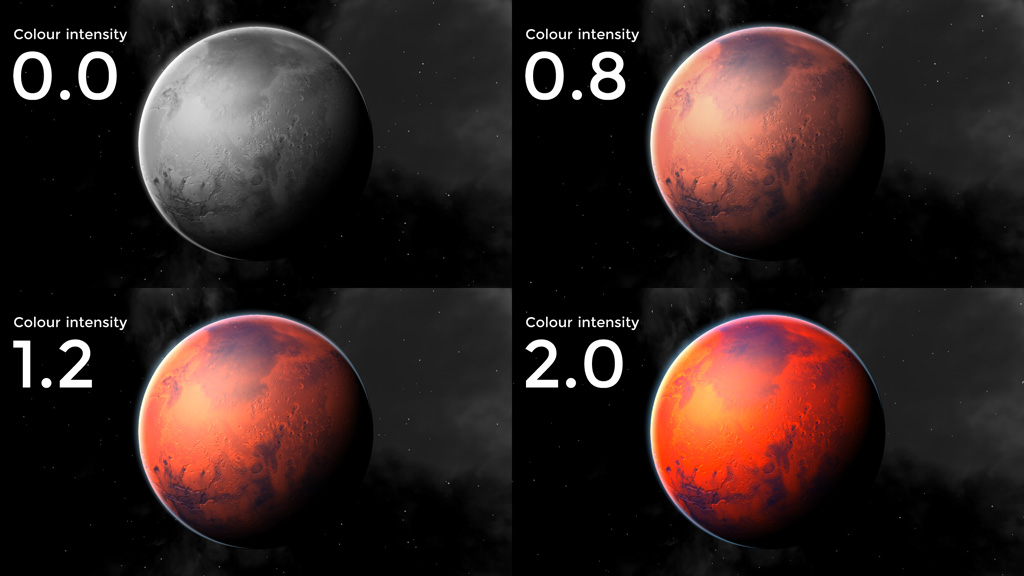 michiel | 5 years ago | 6 comments | 4 likes | 1,846 views
LostBoyz, chaver, Tintin and 1 other like this!
Here's how you can change the look of Mars with the COLOUR INTENSITY property of the camera layer.

A value of 0.0 removes all colour, turning it into a B&W picture. Present the red planet like this if you have an exhibition in a very expensive art gallery.

A value of 0.8 makes it look like a serious, scientific presentation. For example when raising money for a Mars mission.

A value of 1.2 makes the planet look more sexy. This is perfect for SF movies.

A value of 2.0 makes it very bright, which is excellent for children books.
outerspace-software.com...

To use the COLOUR INTENSITY property:
-select the camera layer with the dropdown above the PLAY button
-select the COLOUR INTENSITY property with the dropdown above the 3 sliders
-play around with the 1st slider

michiel, 5 years ago
Michiel....that brings to the forefront something I have wondered about often.

Why do the sliders go from 0 to 2 as in this case?

If it was 0 to 100 then I could pick a percentage of color intensity.

Seems so odd to have a setting of 0.9292 as in your image.

Sarge
SMSgtRod, 5 years ago
To turn it into percentages, multiply it by 100.

So 0.9292 equals 92%

2 is 200%

and 1 is the neutral value: 100%

Note that you can use the textbox to the right of the slider to enter values outside the slider range. The max slider value is 2, but it's perfectly OK to enter 3 or higher in the textbox.

michiel, 5 years ago
That's what is confusing.
Why don't the sliders go from minimum to maximum?
Or in the cases of values less than 0, have 0 as the center point
and min/max left and right.

I guess I don't understand the concept of the value settings that
are a max of two but you can enter higher.

In your example if I do multiply 0.9292 x 100 I get 92 but it's not
92% as 200% is the max slider and I could enter 300%.

It seems that the slider all the way to the left should be 0% color intensity,
and all the way to the right is maximum color intensity, 100%
If I enter values to the text box it should only be a value of 0 to 100.
Sarge
SMSgtRod, 5 years ago
Because there is no maximum.

Mathematically there's nothing wrong with a colour intensity of 1000 or higher.

The slider uses the range of [0, 2] because we expect most shows will use a value in that range. Those are "normal" values. Yes, that's pretty arbitrary. But I hope you agree that's better than a range of [0, 1000]

What do you thing would be a good slider range?

michiel, 5 years ago
Slider range of 0 to 100, or 0 to 10. Keep it metric. I like metric. LOL

I guess if you want to be funky the slider could be 0 to F!
That would put a real Hex on it! LOL

Then the user of course could crank in their own extremes in the box.

Sliders that are 0 or 1 would be a button or toggle. I think most of us expect a slider
to be for a variable not an on/off condition. It's all binary!! LOL
SMSgtRod, 5 years ago
Comment to this article
More by michiel

About michiel
Michiel den Outer is the founder and lead coder of Outerspace Software. He lives in Rotterdam, the Netherlands.

If he isn't busy improving BluffTitler, he is playing the piano or rides the Dutch dikes on his bikes.

763 articles 3,727,690 views

Contact michiel by using the comment form on this page or at info@outerspace-software.com